Cromer and Sheringham Operatic & Dramatic Society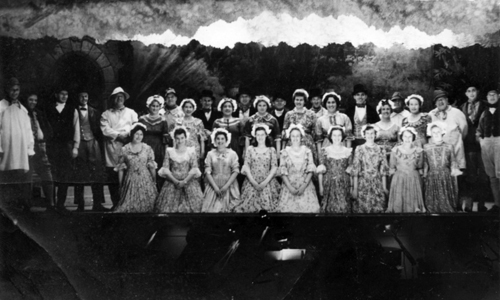 After the Second World War the Operatic and Dramatic Society started again, combining the singing and acting talent of the two towns. There were some early productions at the Town Hall at Cromer whilst it continued as a theatre but it was not long before the Pier Pavilion became the favoured venue. After the damage to the pier by the 1953 floods, productions had to be at the Town Hall until the pier was fully repaired.
Through the 1950s the favoured productions were the Gilbert and Sullivan comic operas. At that time they were still in copyright, so no changing of words was permitted - certainly localised jokes couldn't be included. There was lots of combined choral work in the productions and all the cast played a full part
The big change came in 1961 when a non G and S production was put on for the first time. Dvorak's 'Summer Song' was the choice, built loosely around his life with its melodies from his 'New World' symphony. From then onwards, the Society would not return to the G and S selection; the Sheringham Savoyards were started up to serve those who wished to maintain that tradition.