Cromer Directory 1890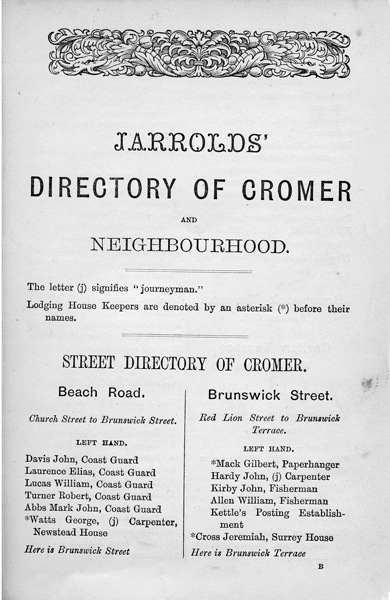 Town Directories can be useful resources for the historian. Information from Cromer directories has been used in the process of compiling A Dictionary of Cromer and Overstrand History.
The slideshow here shows you the pages from the 1890 Directory that list the streets of Cromer and the inhabitants of those streets. An alternative listing in the Directory gives the residents listed alphabetically.
At present these pages are not searchable by keywords but it may be possible to provide a searchable listing - rater like the census pages - before too long.
If you are researching a relative who appears on the 1891 census, this listing can be particularly helpful in identifying where he or she was living.
Don't forget that to stop on a specific page, you can control-click on the image; if you just click the image it will move you on to the next page. To go back a page, shift-click the page.