Gravestones in the Old Holt Road Cemetery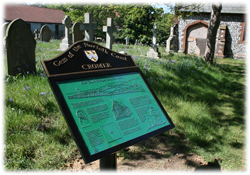 The following table is a listing of gravestones in the Old Holt Road cemetery.
The details of the Cromer graveyards are given in A Dictionary of Cromer and Overstrand History.
Visitors to the site will find the panel shown in our picture will help with further information.
Please note that the list below is both an incomplete listing and that in some instances information is too worn to be legible. Even so, we hope it will be useful to family historians. Burial records are available at Cromer Town Council.
| Surname | First name | Date of birth | Date of death | Parents | Other information |
| --- | --- | --- | --- | --- | --- |
| ?? | Marjorie Ellen | | | daughter of James & ?? | |
| Abbs | Jemima | | 25th December 1896 | wife of Hammond Thomas Abbs | aged 65 years - same memorial as husband |
| Abbs | Hammond Thomas | | 13th January 1905 | husband of Jemima | aged 89 years - same memorial as wife |
| Abbs | Albert Edward | | 12th October 1887 | son of Hammond & Jemima Abbs | aged 24 years - on same memorial as parents |
| Abel | Elizabeth | | 19th February 1902 | wife of John Robert | aged 63 years - same memorial as husband |
| Abel | John Robert | | 10th March 1913 | husband of Elizabeth | on same memorial as wife |
| Abel | Louisa Maria | | 10th April 1884 | | on same memorial as Mary Ann |
| Abel | Mary Ann | | 22nd April 1896 | | aged 82 years - on same memorial as Louisa Mari |
| Allen | Elizabeth | | 12th October 1904 | | aged 82 years |
| Allen | Gilbert | | 14th June 1902 | husband of Sarah A | aged 48 years |
| Allen | Florence Louisa | | 10th November 1902 | daughter of Benjamin and Sarah | aged 21 years |
| Allen | Charlotte | | ?? | wife of Walter | very worn stone |
| Allen | John | | 1869 | | |
| Allen (?) | Sarah | | ?? | | on same memorial as Charlotte Allen |
| Amis | Robert Valentine | | 14th September 1897 | husband of Ada | aged 45 years |
| Amis | Richard | | 23rd November 1905 | husband o Elizabeth and brother of Agnes Alice Amis | aged 35 years - on same memorial as sister Agne Alice |
| Amis | Agnes Alice | | 1st June 1919 | | aged 45 years |
| Andrews | Walter Norris | | July ?? 1898 | | |
| Askwith | Thomas | | 30th September 1903 | husband of Mary | aged 47 years |
| Bacon | James | | 20th January 1873 | son of Mary Ann and stepson of Jonathan Harrison | aged 31 years "late of HMS" |
| Baker | William Porter | | 3rd November 1901 | husband of Sally Augusta | aged 48 years - on same memorial as wife |
| Baker | Sally Augusta | | 22nd July 1942 | wife of William Porter Baker | aged 81 years - same memorial as husband |
| Baker | William Porter | | 29th May 1968 | husband of Dorothea | aged 79 years - same memorial as wife |
| Baker | Dorothea | | 6th March 1968 | wife of William Porter Baker | aged 76 years - same memorial as husband |
| Balls | Mary | | 25th June 1903 | wife of John | on same memorial as husband |
| Balls | John | | 7th ?? 1890(?) | husband of Mary | on same memorial as wife |
| Balls | Mary Ann | | 20th November 1876 | daughter of Henry & Elizabeth Balls | aged 16 years |
| Balls | William | | ?? | husband of Frances Martha Balls | very worn stone |
| Beasy | Arthur Robert | | ? June 1889 or 1882 | Charles & Ann Beasy | aged 4 years and ? Months |
| Beasy | Charles | | 26th March 1899 | wife of Ann Beasy | aged 74 years - same memorial as wife |
| Beasy | Ann | | 15th June 1920 | wife of Charles | aged 81 years - same memorial as husband |
| Bilham | Robert Brereton | | 9th July 1907 | husband of Alice Bilham | aged 56 years - on same memorial as wife |
| Bilham | Alice Susan | | 27th June 1929 | wife of Robert | aged 77 years - on same memorial as husband |
| Bilham | George Robert | | 16th December 1902 | son of Robert and Alice | aged 24 years |
| Bird | Susannah Elizabeth | | 4th October 1882 | wife of Thomas Edward Bird | aged 25 years |
| Bird | Frederick Edward | | 9th February 1883 | | aged 4 months - on same memorial as Susannah Elizabeth |
| Bishop | John Robert | | 19th May 1902 | husband of Christianna | aged 47 years - same memorial as wife |
| Bishop | Christianna | | 6th October 1938 | wife of John Robert | same memorial as husband |
| Blythe | Austin | | 16th January 1903 | husband of Mary Ann | aged 57 years - same memorial as wife |
| Blythe | Mary Ann | | 25th or 28th March 1948 | wife of Austin | aged 95 years - same memorial as husband |
| Blythe | Lucy | | 5th October 1892 | wife of John | on same memorial as husband |
| Blythe | John | | 17th(?) March 1870 | husband of Lucy | aged 42 years - on same memorial as wife |
| Blythe | Mary | | 21st January 1892 | wife of Austin Blythe | aged 83 years - on same memorial as husband |
| Blythe | Austin | | 6th December 1892 | husband of Mary Blythe | aged 86 years - on same memorial as wife |
| Bond Cabbell | John | | 25th October 1878 | husband of Margaret | aged 70 years "of Cromer Hall" - on same memorial as Margaret |
| Bond Cabbell | Margaret | 10th June 1817 | 16th July 1911 | wife of John | on same meorial as husband |
| Bullen | Robert John | | 16th December 1902 | | aged 21 years |
| Bullen | Eleanor Lydia Grand | | 7th March 1906 | wife of Arthur Herbert Bullen | aged 40 years |
| Burton | Maria | | 13th May 1897 | wife of Lewis Gilbert Burton | on same memorial as husband |
| Burton | Lewis Gilbert | | 22nd November 1908 | husband of Maria | on same memorial as wife |
| Burton | Sophia | | 1st November 1816 | wife of Isaac Howes Burton | very worn stone |
| Burton | Elizabeth | | 11th March 1872 | | aged 83 years |
| Burton | Sewell A.H. | | July 1884 | husband of Sarah | aged 73 |
| Burton | Sarah | | 7th August 1875 | wife of Sewell | aged 84 |
| Clarke | George | | ? 1918 | | Memorial says "For God and country in loving memory if my dear brother" - on same memorial as Richard Allen and Emily Clarke and |
| Clarke | Richard Allen | | | | On same memorial as George and Emily Clarke and |
| Clarke | Emily | | 18th July 1916 | widow of Richard Allen Clarke | On same memorial as George Clarke and Richard Allen Clarke |
| Clarke | Bertram George | | 9th January 1887 | son of Samuel & Grace Clarke | |
| Collision | Susanna | | 25th October 1869 | | aged 95 |
| Collison | George Webb | September 1808 | 31st August 1893 | | |
| Collison | Rosetta Webb | | | daughter of Susanna | |
| Collison | | | | | |
| Collison | William | | October 1867 | husband of Sarah | aged 68 |
| Collison | Sarah | | May 1866? | wife of William | Aged 61? |
| Comben | Christopher Byatt | | 22nd August 1905 | | aged 53 years |
| Comben | Richard | | 8th December 1882 | husband of Mary Ann | aged 57 years - same memorial as wife |
| Comben | Mary Ann | | 28th December 1886 | wife of Richard | aged 62 years - same memorial as husband |
| Copley | Henry Day | 15th June 1839 | 30th May 1895 | husband of Caroline | same memorial as wife |
| Copley | Caroline | 21st July 1833 | 4th April 1899 | wife of Henry Day Copley | same memorial as husband |
| Cox | William | 2nd December 1822 | 189? | son of Samuel & Frances Cox | |
| Crane | Mary Ann | | 6th October 1897 | wife of the late John Craven of Holgate, North Walsham | aged 82 years |
| Crisp | Phoebe | | 3rd October 1920 | wife of Arthur | aged 67 years - same memorial as husband and son |
| Crisp | Arthur | | 9th April 1935 | husband of Phoebe | aged 84 years - same memorial as wife and son |
| Crisp | Arthur | | 3rd May 1931 | son ofArthur and Phoebe | "died in Chicago, USA" - on same memorial as parents |
| Curtis | James | 17th April 1820 | 28th December 1902 | | same memorial as wife |
| Curtis | Harriet | | 21st October 1913 | | aged 90 years - same memorial as husband |
| Daniels | Elizabeth | | 21st February 1883 | wife of William | aged 52 years - on same memorial as husband |
| Daniels | William | | 8th November 1912 | husband of Elizabeth | aged 83 years - same memorial as wife |
| Davison | Ada | | 19th November 1897 | wife of Daniel Davison | aged 29 years - same memorial as husband |
| Davison | Daniel | | 8th November 1930 | husband of Ada Davison | aged 64 years - same memorial as wife |
| Dennis | James | | 30th March 1898 | | aged 76 years |
| Dersle | Ellen | | 22nd August 1883 | | |
| Durrant | David | | 20th December 1903 | father of Walter Henry | on samememorial as son Walter |
| Durrant | Walter Henry | | 2nd September 1923 | son of David | aged 65 years - on same memorial as father David |
| Durrant | Ann | | 29th January 1887 | wife of David Durrant,mother of Edeard Levi Durrant | aged 62 years - on same memorial as son |
| Durrant | Edward Levi | | 10th March 1892 | son of David & Ann Durrant | aged 26 years - on same memorial as mother |
| Dyer | Mercy | 5th November 1852 | 2nd September 1897 | | born at Eastbourne died at Cromer |
| Eastoe | Eveline | | 5th July 1886 | | aged 17 years |
| Fenton | Susan | | | | on Same memorial as Benjamin Fenton & Richard Stevenson - stone very worn |
| Fenton | Benjamin | | | | on Same memorial as Susan Fenton & Richard Stevenson - stone very worn |
| Fisher | Robert Isaacks | | 31st October 1899 | | in his 33rd year |
| Fluder | Charles John | | 17th May 1880 or 1889 | | |
| Fluder | Arthur Elsdell | | 15th November 1884 | | |
| Fox | John | | 14th February 1888 | husband of Harriet | aged 58, 'for nearly thirty years postmaster of this town' |
| Fox | Harriet | | 18th September 1938 | wife of John | aged 89 ('90th year') |
| Francis | Albert James (Bertie) | | | only son of James & Caroline Francis | |
| Gaufreda Lawson | Sloan | 1887 | 1974 | | on same memorial as John Bond Cabbell |
| Gilmour | Margaret | | 24th February 1882 | | aged 65 years - on same memorial as Isabella |
| Gilmour | Isabella | | 20th May 1890 | | aged 75 years - on same memorial as Margaret |
| Golding | George Wright | | | | stone very worn unable to read more detail |
| Grimble | James Thomas | | 13th March 1888 | husband of Elizabeth | aged 59 |
| Grimble | Elizabeth | | 10th February 1911 | wife of James | aged 82 |
| Grimes? | Mary | | 10th August 1886 | wife of William | aged 36 years |
| Harrison | Henry | | 5th ?? 1887 | husband of Gertrude | same memorial as wife |
| Harrison | Gertrude | | ?? 1909 | wife of Henry | aged 58 years - same memorial as husband |
| Harrison | Benjamin | | 6th February 1897 | husband of Elizabeth | aged 72 years - on same memorial as wife |
| Harrison | Elizabeth | | 16th December 1883 | wife of Benjamin | aged 52 years - on same memorial as husband |
| Harrison | Charles J | | 24th December 1889 | | aged 26 years |
| Harrison | Joseph | | 11th March 1865(?) | | |
| Harrison | Sarah | | ?? 1900 | | age 77 years |
| Harrison | Jonathan | | 3rd May 1877 | husband of Mary Ann Harrison | aged 63 years |
| Harrison | George | | 29th June 1888 | husband of George | aged 80 |
| Harrison | Mary | | 30th March 1897 | wife of George | aged 80 |
| Harwood | George | | | | "of Stratford" - very worn stone |
| Hunter | Charlotte | | 18th October 1897 | wife of Samuel | aged 76 years - same memorial as husband |
| Hunter | Samuel | | 28th May 1916 | husband of Charlotte | aged 93 years - same memorial as wife |
| Ives | John Valentine | | 27th october 1881 | | very worn stone |
| Jacob | Elizabeth | | 1st? November 1873? | | aged 79 |
| Jacob | Joshua | | 28th August 1870 | husband of Jane | aged 58 |
| Jacob | Jane | | 9th June 1864 | wife of Joshua | aged 54 |
| Jacob | Isaac | | 11th May 1864 | son of Joshua and Jane | aged 25 |
| Jarvis | Louisa | | 14th July 1937 | | |
| Jarvis | Lucy | | 25th October 1879 | wife of Henry S Jarvis | aged 52 years |
| Jarvis | Henry S | | ?? May 1883 | | |
| Jarvis | Ernest Frederick | | 13th ?? 1898 | ? Son of Lucy & Henry | |
| Jessop | Dora | | 30th April 1903 | daughter of William & Florence Jessop | aged 9 years |
| Kettle | Harriet | | 18th January 1898 | wife of George M Kettle | aged 53 years |
| Kirby | James | 22nd (?) April | 1884 | ? Husband of Hannah | aged 52 or 62 - on same memorial as wife |
| Kirby | Hannah | | 26th August 1906 | ? Wife of James | on same memorial as James |
| Larner | Elizabeth | | 11th June 1888 | | aged 58 years |
| Lester | Mary Howes | | 17th December 1867 | eldest daughter of Sewell and Sarah Burton and widow of Ambrose Lester | aged 64 |
| Linford | Marianne | | 18th January 1902 | widow of William Linford | aged 78 years |
| Lord | John | | | | "Master of the Goldsmith School, Cromer" |
| Love | John Neave | | 4th July 1899 | husband of Mary | aged 79 years - on same memorial as wife |
| Love | Mary | | 9th June 1907 | wife of John | aged 80 years - on same memorial as husband |
| Mack | Gilbert Allen | | 9th November 1906 | | aged 60 years |
| Mack | Mary Julia | | 14th May 1897 | wife of Gilbert Allen Mack | aged 40 years |
| Mack | Hannah Elizabeth | | 31st July 1896 | | aged 65 years |
| Mack | Louisa | | 23rd August 1895 | | aged 56 years |
| Mack | James | | 21st October 1884 | husband of Susanna | aged 71 years - same memorial as wife |
| Mack | Susanna Webb | | 2nd January 1895 | wife of James | aged 81 years - same memorial as husband |
| Mayes | William Charles | | 25th March 1907 | husband of Elizabeth | aged 80 years - on same memorial as wife |
| Mayes | Elizabeth | | 8th January 1905 | wife of William Charles | aged 77 years - on same memorial as husband |
| Mayes | Hannah | | 24th January 1904 | wife of Francis | aged 87 years - on same memorial as husband |
| Mayes | Francis | | 1st August 1929 | husband of Hannah | aged 82 years - on same memorial as wife |
| Mayes | James Charles | | 23rd July 1889 | husband of Mary Ann | aged 70 |
| Mayes | Mary Ann | | 7th September 1900 | wife of James Charles | aged 76? |
| McArthur | Edward | | 11th May 1899 | | aged 46 years |
| McArthur | Catherine | | 12th June 1903 | | aged 22 years |
| Medland | John | | 16th June 1886 | son of Thomas Loveday Medland | aged 21 years "of Port Looe, Cornwall, who met with his death by accident on board the Jehu" |
| Miller | Harry E. | | 9th October 1898 | | aged 47, same stone as Joshua Jacob |
| Miller | John Samuel | | 14th June 1899 | husband of Ann | aged 68 (69th year) |
| Miller | Ann Elizabeth | | 27th April 1923 | wife of John | aged 84 |
| Miller | Lucy Maria | | 11th November 1934 | wife of Harry | aged 84 |
| Milton | Bertha | | 21st June 1906 | | aged 11 years |
| Musgrave | Zara | | | daughter of Colonel Musgrave | |
| Nockells | Hilary | | 6th August 1896 | husband of Susan Elizabeth | aged 85 years - same memorial as wife |
| Nockells | Susan Elizabeth | | 21st January 1897 | wife of Hilary | aged 83 years - same memorial as husband |
| Nockels | Elizabeth | | | wife of Henry | same memorial as husband |
| Nockels | Henry | | 10th July 1890 | | aged 84 years - same memorial as wife |
| Payne | Ord Richardson | | 19th July 1897 | | aged 11 years |
| Payne | Sarah Ann | | ?? 1894 | wife of William Bloon Payne | |
| Puxley | Louis Tom | | | | |
| Ramm | Hannah | | 9th March 1902 | wife of the late William Ramm | aged 66 years - on same memorial as daughter |
| Ramm | Emma | | 15th(?:) June 1918 | daughter of William and Hannah | on same memorial as mother |
| Ransom | Charles James | | 5th December 1894 | husband of Mary | aged 48? |
| Ransom | Mary Ann | | ?9 May 1912 | wife of Charles | aged 65? |
| Read | William | | 23rd September 1904 | husband of Martha G Read | aged 52 years - same memorial as wife |
| Read | Martha G | | 29th October 1932 | wife of William | aged 79 years - same memorial as husband |
| Riches | Elizabeth Read | | ?? November 1882 | | aged 4 months |
| Rogers | Matthew | | 9th January 1906 | | aged 69 years - Died at Fairfax House, Cromer |
| Rogers | Ann Jane | | 14th December 1901 | wife of Joseph | aged 56 years - same memorial as husband |
| Rogers | Joseph | | 24th December 1907 | husband of Ann Jane | same memorial as wife |
| Rust | Anne Maria | | 25th June 1895 | wife of Benjamin | aged 65 years - samememorial as husband |
| Rust | Benjamin | 21st August 1833 | 7th July 1901 | husband of Anne Maria | same memorial as wife |
| Rust | Benjamin | | 23rd October 1864 | | aged 73 years - on same memorial as wife |
| Rust | Georgina Webb | | 29th August 1878(?) | | aged 68 years - on same memorial as husband |
| Rust | Margaret Georgina | | 13th January 1891 | daughter of Benjamin & Georgina | aged 18 years - on same memorial as parents |
| Rust | Hannah | | 16th January 1910 | daughter of Benjamin Rust | aged 77 years |
| Salter | James | | 5th August 1881 | child of A E & S Salter | |
| Sandford | George | 19th April 18?? | 27th June 1905 | husband of Edith Anne | same memorial as wife |
| Sandford | Edith Anne | 10th January 1849 | 21st January 1925 | wife of George | same memorial as husband |
| Sandford | George Webb | 4th March 1813 | 16th May 1892 | | 'For many years resident in London, where he laboured successfully to promote the cause of pharmaceutical education.' |
| Scott | Elizabeth | | 1904 | wife of James W | same memorial as husband |
| Scott | James W | | 1929 | husband of Elizabeth | same memorial as wife |
| Scottow | James | | 17th July 1886 | | aged 68 years |
| Sharp | Mary | | | | stone very worn unable to read more detail |
| Sidle | James | 1st April 1810 | 9th February 1882 | husband of Sarah | on same memorial of wife |
| Sidle | Sarah | 19th June 1811 | ?th November 1900 | wife of James | on same memorial as husband |
| Simons | Simeon | | 20th May 1867 | husband of Susanna | |
| Simons | Susanna | | 7th July 1875 | wife of Simeon | |
| Smith | Caroline | | 7th March 1903 | | "of Avon House, Cromer and native of Leamington Spa" |
| Spencer | Henry | | 25 September 1895 | | aged 86 years |
| Stevenson | Richard | | | | on Same memorial as Benjamin & Susan Fenton - stone very worn |
| Stimpson | Bethuell | | 19th February ?? | husband of Sarah | |
| Stimpson | George Robert | | 17th June 1890 | husband of Anna Maria Stimpson | aged 33 years |
| Stockdale | Charles Robert | | 12th August 1907 | | aged 23 - drowned |
| Tann | M. A. | | 27th March 1883 | parent of E S Tann | aged 39 years - same memorial as daughter |
| Tann | E. S. | | 22nd February 1890 | daughter of M A Tann | aged 5 years - on same memorial as parent |
| Thompson | James Henry | | 8th July 1903 | husband of Adelaide | aged 57 years - same memorial as wife |
| Thompson | Adelaide | | 5th January 1930 | wife of James Henry | aged 78 years - same memorial as husband |
| Thompson | Hannah | | 19th February 1899 | | aged 86 years |
| Watson | John Wakefield | | 2nd September 1905 | husband of Agnes E E Watson | aged 39 years - same memorial as wife |
| Watson | Agnes E E | | 25th May 1933 | wife of John Wakefield Watson | aged 84 years - same memorial as husband - "interred at Paddington cemetery, Willesden" |
| White | Ethel Letty | | 2nd October 1907 | daughter of Charles & Letty White | |