Rechabites in Cromer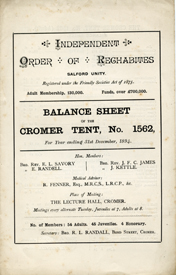 The Rechabite Friendly Society was active in Cromer from the 1880s with the last members joining in the 1940s. The records of the Society are extant and we've included a selection of the earlier membership of the Society in the list below, where it may be of interest to family historians.
Some friendly societies subscribed to local hospitals, which enabled them to recommend their members for treatment. The IOR Cromer Tent paid an annual subscription of one guinea to Cromer Cottage Hospital, entitling them to recommend two people for admission in the year, "one for each half guinea".
Women had their own societies, particularly in industrial areas where there were large numbers of female workers. In Norfolk female societies were uncommon but many of the early female Tents of the Rechabites had been amalgamated with the male groups, making them the first order to allow mixed membership. The first two members of the Cromer Tent were husband and wife Alfred and Sarah Ann Salter, The growth of the temperance movement in the late nineteenth century had a strong appeal to women and in the years 1884-1908 women made up a high proportion of the membership of the Cromer Tent.
Although her husband was one of the first members of the IOR in Norwich, when Catherine Scarlett wished to join the Rechabites the "Self-Help" Tent in Norwich did not accept women, so she was initiated into the "Cromer" Tent in January 1886. She took an active role in the movement and in 1888 she became one of the first members of the "Onward" (Female) Tent in Norwich. This was the first female branch of any of the affiliated orders in the city.
| Age | Date of initiation | Date of Proposition or Joining | Married or single | Member's Name | No. | Occupation | Remarks | Residence |
| --- | --- | --- | --- | --- | --- | --- | --- | --- |
| | | 1884 | | Alfred Edward Salter | 1 | | | Hillside, Cromer |
| | | 1884 | | Sarah Anne Salter | 2 | | | Hillside, Cromer |
| | | 1884 | | Olive Gallehawk | 3 | | | |
| | | 1884 | | Mary Ann Swan | 4 | | | |
| | | 1884 | | Margaret Amelia Ransom | 5 | | 1909 address Bond Street, Cromer 1916 address 17 The Meadow, Cromer - From 1900 married name was Kirby | Tucker Street, Cromer |
| | | 1884 | | Frederick Walter Burton | 6 | | | |
| | | 1884 | | John Kettle Jnr | 7 | | | 62 Church Street, Cromer |
| | | 1884 | | Robert Laurence Randall | 8 | | | 21 Mount Street, Cromer |
| | | 1884 | | James White | 9 | | | Cabbell Road, Cromer |
| | | 1884 | | William Mayes | 10 | | | |
| | | 1884 | | Charley Burton | 11 | | | |
| | | | | Ephraim Randell | 12 | | Honorary Member | |
| 26 | 03 Jan 1885 | 03 Jan 1885 | Married | Harriet Mary Ann Burton | 13 | | | Cromer |
| 16 | 31 Jan 1885 | 17 Jan 1885 | Single | William Thomas Craske | 14 | Blacksmith | | Cromer |
| 33 | 31 Jan 1885 | 31 Jan 1885 | Married | Walter William Larwood | 15 | Builder | | Roughton |
| 17 | 31 Jan 1885 | 31 Jan 1885 | Single | Margaret Henrietta Parr | 16 | | | Cromer |
| 38 | 14 Feb 1885 | 14 Feb 1885 | Married | Sophia Larwood | 17 | | | Roughton |
| 15 | 28 Feb 1885 | 28 Feb 1885 | Single | Alfred Henry Amiss | 18 | Basketmaker | | Cromer |
| 15 | 28 Feb 1885 | 28 Feb 1885 | Single | James Robert Golding | 19 | Butcher | 1906 address Suffield Park, 1909 address West Street, 1913 address 11 Meadow, West Street | Surrey Street, Cromer |
| 21 | 28 Feb 1885 | 28 Feb 1885 | Single | Florence Blanche Alexandra Kettle | 20 | | | Cromer |
| _ | 28 Feb 1885 | 28 Feb 1885 | _ | John Kettle snr | 21 | | Honorary member | Church Street, Cromer |
| 18 | 14 Feb 1885 | 14 Feb 1885 | Single | Charles Edward Curtis | 22 | Tailor | | Cromer |
| 24 | 11 Apr 1885 | 11 Apr 1885 | Single | William England | 23 | Baker | | Cromer |
| 21 | 11 Apr 1885 | 11 Apr 1885 | Single | Edward Sackett White | 24 | Grocer | | Cromer |
| 15 | 11 Apr 1885 | 11 Apr 1885 | Single | Henry Thomas Payne | 25 | Butcher | | |
| 25 | 25 Apr 1885 | 25 Apr 1885 | Single | William Frederick Payne | 26 | Grocer | | |
| 19 | 25 Apr 1885 | 25 Apr 1885 | Single | Harriet England | 27 | | | Cromer |
| 20 | 09 May 1885 | 25 Apr 1885 | Single | Gertude Harriet Copsey | 28 | | | |
| 17 | 09 May 1885 | 11 Apr 1885 | Single | Mary Leake | 29 | | | Runton |
| 15 | 09 May 1885 | 09 May 1885 | Single | Herbet Durrant Pyke | 30 | Shoemaker | | Gresham |
| 33 | 23 May 1885 | 25 Apr 1885 | Married | Alfred Joseph Leake (Lake) | 31 | Fisherman | | East Runton |
| 17 | 20 Jun 1885 | 20 June 1885 | Single | Harry Tapner Bacon | 32 | Grocer | 1903 address Prince of Wales Road | Meadow Villas, Cromer |
| 21 | 18 July 1885 | 04 July 1885 | Single | Alice Rogers Clements | 33 | | | Overstrand |
| 26 | 18 July 1885 | 18 July 1885 | Married | Charles Aaron Warner | 34 | Photographer | | Cromer |
| 37 | 18 July 1885 | 18 July 1885 | Married | Ruth Anderson | 35 | | 1906 address Cross Street | New Street, Cromer |
| 21 | 05 Sep 1885 | 29 Aug 1885 | Single | Walter Reuben Pigg | 36 | Printer | 1909 address Cromer House, East Runton, 1916 address Garden Cottage. The Heath, Roughton | Holt |
| 22 | 05 Sep 1885 | 29 Aug 1885 | Single | John Holmes Randall | 37 | Watchmaker etc | | Holt |
| | 24 Sep 1885 | 12 Sep 1885 | Married | John Hales | 26 | Surgeon | Declaration form completed - but doesn't appear to have paid contributions or become a member | Holt |
| 34 | 24 Sep 1885 | 12 Sep 1885 | Married | John Bradford Hudson | 38 | Schoolmaster | 1900 address 4 St Marys Road, Cromer | Cromer |
| 20 | 29 Oct 1885 | 26 Sep 1885 | Single | Herbert John Hudson | 39 | Watchmaker etc | | Holt |
| 32 | 30 Jan 1886 | 30 Jan 1886 | Maried | Catherine Mary Ann Scarlett | 40 | | | Norwich |
| 21 | 13 Mar 1886 | 27 Feb 1886 | Married | Edward Quinton Bullock | 41 | Carpenter | | Cromer |
| 25 | 27 Mar 1886 | 27 Mar 1886 | Single | Joseph Middleton | 42 | Labourer | Signed declarataion X | Cromer |
| 43 | 24 Apr 1886 | 24 Apr 1886 | Married | Thomas Wanstall | 43 | Pensioner | 1900 address Prince of Wales Road, 1903 address Cabbell Road | Cromer |
| 15 | 24 Apr 1886 | 24 Apr 1886 | Single | George Austin Blythe | 44 | Painter | | Cromer |
| 23 | 15 May 1886 | 10 Apr 1886 | Single | Christopher Leonard Playford | 45 | Printer | | Holt |
| 19 | 27 May 1886 | 22 May 1886 | Single | Walter Winearls | 46 | Shopkeeper | | Cromer |
| 17 | 05 June 1886 | 05 Jun 1886 | Single | Mary Louisa Smith | 47 | Domestic Servant | Married Doughty | Cromer |
| | 16 July 1886 | 19 June 1886 | | Ernest Lloyd Savory | 48 | Clergyman | Honorary | Palgrave |
| | 16 July 1886 | 19 June 1886 | | James Charles Mayes | 49 | Fisherman | Honorary | Cromer |
| | 10 Aug 1886 | 19 June 1886 | | William Cooke | 50 | | Honorary | Aldborough |
| | 10 Aug 1886 | 19 June 1886 | | Edward Charles Knights | 51 | | Honorary | Gresham |
| 15 | 28 Aug 1886 | 28 Aug 1886 | Single | Albert James Wanstall | 52 | | | Cromer |
| 24 | 03 Sep 1886 | 28 Aug 1886 | Married | Robert Davis (Davies) | 53 | Fisherman | | Cromer |
| 43 | 03 Sep 1886 | 28 Aug 1886 | Married | Louisa Botwright | 54 | | | South Repps |
| | | 28 Aug 1886 | | William Winearls | 42 | | Declaration form completed - but doesn't appear to have paid contributions or become a member | Holt |
| 21 | 23 Sep 1886 | 11 Sep 1886 | Single | Alick Emery Jones | 55 | Grocer | | Holt |
| 31 | 24 Sep 1886 | 11 Sep 1886 | Married | Alice Grand | 56 | Shopkeeper | | |
| 37 | 09 Oct 1886 | 11 Sep 1886 | Married | Jane Wanstall | 57 | | 1900 address Prince of Wales Rd, 1903 Cabbell Rd, 1908 5 St Marys Road, 1912 6 St Marys Road, 1916 Westby, Prince of Wales Rd | Cromer |
| 20 | 26 Oct 1886 | 23 Oct 1886 | Single | Herbet Le Pla | 58 | Baker | | |
| 29 | 23 Dec 1886 | 18 Dec 1886 | Single | Sarah Ann Moulton | 59 | Housekeeper | | |
| 20 | 23 Dec 1886 | 18 Dec 1886 | Single | William Beck | 60 | Grocer | | Holt |
| 25 | 09 Feb 1887 | 12 Feb 1887 | Single | Anna Maria Randall | 61 | | | |
| 15 | 26 Feb 1887 | 26 Feb 1887 | Single | Blanche Caroline Smith | 62 | | | South Repps |
| 29 | 26 Mar 1887 | 12 Mar 1887 | Married | John Allen | 63 | Fisherman | 1900 address 10 North Row, Cromer | Cromer |
| 17 | 09 Apr 1887 | 09 Apr 1887 | Single | Herbert Plumbly | 64 | Labourer | | Cromer |
| 15 | 23 Apr 1887 | 23 Apr 1887 | Single | Alfred Ramm | 65 | | | Cromer |
| | | 1887 | | Robert Mayes | 66 | | | |
| 19 | 09 May 1887 | 21 May 1887 | Single | Charlotte Elizabeth Watts | 67 | Dressmaker | | Walsingham |
| 26 | 09 May 1887 | 21 May 1887 | Single | Thomas Malcolm Larner | 68 | Grocer | | Holt |
| 21 | 16 May 1887 | 07 May 1887 | Single | Arthur Henry Hewitt | 69 | Grocer | | Cromer |
| 20 | 16 May 1887 | 21 May 1887 | Single | James Dickerson | 70 | Carpenter | | Cromer |
| 17 | 04 Jun 1887 | 21 May 1887 | Single | George William Smith | 71 | Baker | | Cromer |
| 27 | 04 Jun 1887 | 04 June 1887 | Married | Sarah Emma Mees | 72 | | 1900 address Albany Rd, Manor Park 1902 Ilford, 1905 15 Sunnyside Road, Ilford 1916 26 Seymour Gardens Ilford | Manor Park |
| 29 | 04 Jun 1887 | 04 June 1887 | Married | William Mees | 73 | Surveyor | 1900 address Albany Rd, Manor Park 1902 Ilford, 1905 15 Sunnyside Road | Manor Park |
| 18 | 16 July 1887 | 20 July 1887 | Single | Agnes Selina Watts | 74 | Pupil Teacher | | Walsingham |
| 34 | 08 Oct 1887 | 16 July 1887 | Married | Benjamin Joseph Harrison | 75 | Fisherman | 1900 address New Street | Cromer |
| 42 | 11 Feb 1888 | 11 Feb 1888 | Married | Harriet Kettle | 76 | | | Cromer |
| 38 | 11 Feb 1888 | 11 Feb 1888 | Married | Jacob Warman Munton | 77 | Stonemason | | Cromer |
| | | 1888 | | Ernest Henry Harrison | 78 | | | |
| 24 | 10 Mar 1888 | 25 Feb 1888 | Married | Herbert Bullen | 79 | Carpenter | | Cromer |
| 24 | 24 Mar 1888 | 24 Mar 1888 | Single | Florence Blanche Alexandra Kettle | 80 | | | Cromer |
| 34 | 24 Mar 1888 | 24 Mar 1888 | Married | James Lee | 81 | Labourer | 1900 address East Runton | Runton |
| 27 | 24 Mar 1888 | 24 Mar 1888 | Married | Charlotte Green | 82 | | | Overstrand |
| 23 | 24 Mar 1888 | 24 Mar 1888 | Single | George John Youell | 83 | Chimney Sweep | | Cromer |
| 24 | 21 Apr 1888 | 21 Apr 1888 | Married | Florence Sarah Ann Mace | 84 | | 1900 address Garden Street | Cromer |
| 30 | 05 May 1888 | 05 May 1888 | Married | Samuel Robert Cutting | 85 | Labourer | | Aylmerton |
| 17 | 08 Sep 1888 | 08 Sep 1888 | Single | James Henry Tann | 86 | Carpenter | | Cromer |
| 16 | 06 Oct 1888 | 06 Oct 1888 | Single | Charles Richard Ransom | 87 | Labourer | | Cromer |
| 16 | 12 Jan 1889 | 19 Jan 1889 | Single | George Walter Nockels | 88 | Fishmonger | 1900 address Church Street, 1907 Garden Street | Cromer |
| 29 | 21 Sep 1889 | 21 Sep 1889 | Married | Charlotte Allen | 89 | Housewife | 1900 address 10 North Row | Cromer |
| 16 | 19 Oct 1889 | 19 Oct 1889 | Single | George Alfred Allen | 90 | Coal Porter | Honorary 1900 address Church St, 1906 Swans Yard, 1912 6 South Cottages | Cromer |
| | | 19 Oct 1889 | | Joseph Frederick Cholmondeley James | 91 | Clergyman | | Cromer |
| 20 | 27 June 1891 | 27 June 1891 | Single | William Thomas Leake (Lake) | 92 | Fisherman | | East Runton |
| 20 | 27 Aug 1891 | 27 Aug 1891 | Single | William H Jeckells | 93 | Railway Servant | 1900 address Norwich, (Note in book says Annie born 1878 was this his wife?) | Cromer |
| 20 | 17 Oct 1891 | 17 Oct 1891 | Single | John Henry Chadwick | 94 | Gardener | 1900 address Overstrand, later Fishers Hill, Hook Heath, Woking, Surrey | Cromer |
| 16 | 15 Dec 1891 | 15 Dec 1891 | Single | Benjamin Henry Nockles | 95 | Saddler | | Cromer |
| 19 | 23 Feb 1892 | 23 Feb 1892 | Single | Harold Drake Randell | 96 | Painter | 1900 address Alfred Road, 1901 Prince of Wales RoAD | Cromer |
| 19 | 22 Mar 1892 | 22 Mar 1892 | Single | Keziah Ransome (nee Goodwin) | 97 | Dairy Assistant | 30 June 1900 name changed to Ransome | Cromer |
| 16 | 31 May 1892 | 31 May 1892 | Single | Ernest Lucish Charles Wanstall | 98 | Railway Servant | 1900 address Prince of wales Road | Cromer |
| 16 | 12 July 1892 | 12 July 1892 | Single | Arthur James Summers | 99 | Gardener | | Overstrand |
| 18 | 21 Feb 1893 | 1893 | Single | Alfred Robert Lake | 100 | | 1910 address New Street, Cromer | East Runton |
| 17 | 21 Feb 1893 | 1893 | Single | Emily Long | 101 | Servant | | Bond St, Cromer |
| 20 | 07 Mar 1893 | 1893 | Single | Benjamin James Cleathero | 102 | Bricklayer | 1900 address Cross Street | Cross St, Cromer |
| 25 | 21 Mar 1893 | 1893 | Single | Samuel George Laurence | 103 | Gardener | 1901 address No 2 Cottage, Howy Hill, Hillingdon, Uxbridge, 1901 The Chestnuts, Hillingdon, 1903 Suffield Park, 1903 West Runton, 1905 5 Spring Cottages, West Runton | Cromer |
| 18 | 16 May 1893 | 16 May 1893 | Single | Eva Rosanna Eke | 104 | | 1900 address c/o Miis Mundy, High St, East Ham | West St, Cromer |
| 15 | 16 May 1893 | 16 May 1893 | Single | Alice Mary Moreton (nee Eke) | 105 | | 1900 address 96 London Rd, Kingston on Thames Names changed to Moreton 1904 | West St, Cromer |
| | | 1893 | | Robert Walter Lines Jeckells | 106 | | 1900 address 3 The Meadow | Cromer |
| | | 1893 | | Elizabeth Martha Mary Ann Jeckells | 107 | | 1903 address, Norwich | Aylmerton |
| | | 1893 | | William George Warner | 108 | | 1900 address Surrey St, 1901 Suffield Park, 31 Mill Lane, Suffield Park, | Cromer |
| | | 1893 | | Harriet M Blythe nee Kettle | 109 | | 1900 address Palmers Stable, GER Railway Named chabged to Blythe 1900 | Cromer |
| | | 1893 | | James Allen | 110 | | 1900 address 9 The Meadow | Cromer |
| | | 1893 | | Katherine Ann Massingham | 111 | | | |
| | | 1893 | | Emily Mary Allen | 112 | | | |
| | | 1893 | | Alfred Rowland Harrison | 113 | | | |
| | | 1893 | | Charlotte Annie Green (nee Cook) | 114 | | 1900 address Alfred Road, Cromer | |
| | | 1894 | | Edith Elizabeth Barnes | 115 | | | |
| | | 1894 | | Cecil Chadwick | 116 | | 1900 address Overstrand, 1901 Lilac Farm, Banningham | |
| | | 1894 | | Arthur Charles Lee | 117 | | 1900 address East Runton | |
| | | 1894 | | Janie Payne later Hewitt | 118 | | 1900 address Louden Lane. 1913 Golden Square, 1911 Holt Name changed to Hewitt 1911 | |
| | | 1894 Membership commenced 29 Sep 1896 | | Richard Wanstall | 119 | | 1900 address Prince of Wales Rd, 1915 Norfolk War Hospital, Norwich 1916 Boys Home, St Faiths Lane, Norwich | |
| | | 1895 | | John Thomas Watson Blythe | 120 | | 1900 address Station Rd, Lower Sheringham | |
| | | 1895 | | George Girling | 121 | | 1900 address 28 Denmark Rd, Norwich | |
| | | 1895 | | Emma Mary Chadwick (nee Randell) | 122 | | 1900 address 20 North Row,, 60 Church Street named changed to Chadwick June 1900 | |
| | | 1895 | | William Robert Seales | 123 | | 1900 address Prince of Wales Rd, 1904 Alfred Rd, 1905 Vicarage Rd, 1910 16 The Terrace, Upper Bridge Rd, Chelmsford, 1912 211 Upper Bridge Rd, Chelmsford, 1916 Braemar, Ldy Lane, Chelmsford | |
| | | 1895 | | Martha Ann Muntzer | 124 | | 1902 address c/o Mr A Lake, East Runton, 1916 Cantlowes Road, London | |
| | | 1895 | | Ellen Smith | 125 | | 1900 address Louden Lane, 1908 4 Trafalgar St, Lakenham, Norwich, 1913 Golden Square, Cromer, 1916 Louden Lane | |
| | | 1896 | | Arthur Colman Elliott | 126 | | 1900 address Studley Cottage, 1904 Hans Place, 1906 Studley Cottage, 1907 Hans Place | |
| | | 1896 | | Walter John Allen | 127 | | 1900 address 10 North Row, 1913 Chapel St | |
| | | 1896 | | Winifred Wills Weir | 128 | | 1900 21 Mount Street, 1907 Newcastle on Tyne | |
| | | 1896 | | Frederick John Smith | 129 | | 1902 address Mount Street | |
| | | 1896 | | Lucy Childs (nee Irwin) | 130 | | 1900 address High St, 1902 6 Chesterfield Villas, 916 'Home', The Croft.Named changed to Childs 1901 | |
| | | 1896 | | Herbert Fox | 131 | | Wife: Sophia Charlotte aged 34 in 1896 | |
| | | 1896 | | Muriel Martha Kettle | 132 | | 1900 address 4 Chesterfield Villas, 1901 Suffield Park | |
| | | 1897 | | Edgar Frederick Cotton (or Frederick Edgar) | 133 | | 1900 address Colne Lodge, 1903 Prince of Wales Rd, 1907 West St. | |
| | | 1897 | | Mary Ann Payne | 134 | | 1900 address Louden Lane | |
| | | 1897 | | Ernest William Hunter | 135 | | 1900 address Norwich | |
| | | 1897 | | James William Allen | 136 | | 1900 address 9 The Meadow, 1910 8 Mount Street | |
| | | 1897 | | Robert Surtees Defty | 137 | | 1900 address East Runton, 1904 11 Cross St, Brancepth Colliery, Willington, Durham, 1904 West Runton, 1905 East Runton | |
| | | 1897 | | Robert Esau Painter | 138 | | | |
| | | 1897 | | George Samuel Painter | 139 | | | |
| | | 1897 | | Frederick John Littledyke | 140 | | | |
| | | 1897 | | Alfred William Allen | 141 | | 1900 address 10 North Row | |
| | | 1898 | | Frederick Henry Cleathero | 142 | | | |
| | | 1898 | | John Richard Edwards | 143 | | Wife Jane Edwards, aged 35 in 1898 | West Runton |
| | | 1898 | | Lewis Maurice Leake | 144 | | | East Runton |
| | | 1898 | | Frank James Jacobs | 145 | | 1900 address Cross St, 1906 22 Hanover St, Syleham, SE, 1906 6 Chapel Yard, Holt, | |
| | | 1898 | | William Hayward Kettle | 146 | | 1900 address Chapel St, | |
| | | 1898 | | Hannah Mace Symonds | 147 | | 1900 address Dormy Cottage | |
| | | 1899 | | Clemence Horace Lake | 148 | | 1900 address East Runton. 1910 London | |
| | | 1899 | | May Nockels (later Learner) | 149 | | 1900 address Church St, name changed to Learner 1905 | |
| | | 1899 | | Louisa White | 150 | | 1902 address Cross St, 1906 Bond St, 1909 Cross St, 1913 West St, 1916 18 Church St | |
| | | 1899 | | Alfred Salter | 151 | | 1909 address Notch Hill, BC, Canada, | Hillside, Cromer |
| | | 1899 | | William Salter | 152 | | 1908 address 15 Sunnyside Road, Ilford, 1913 42 Scrafton Rd, Ilford | Hillside, Cromer |
| | | 1900 | | Alice Ann Walker (later Wright) | 153 | | 1902 address 55 Mill Lane, Suffield Park, 1903 6 Brooke St Name changed to Wright 1902 | Mid & GN Railway, Cromer |
| | | 1900 | | Maggie Elizabeth Walker | 154 | | | Mid & GN Railway, Cromer |
| | | 1900 | | Alice Cadywould (nee Daniels) | 155 | | 1904 address Ashtin Villa, Upper Cliff Rd, Gorleston Name changed to Cadywould 1905 | 44 Cabbell Road, Cromer |
| | | 1900 | | John Herbert Kettle | 156 | | 1900 address Wyndham Park, 1902, Club, Cromer, 1903 20 Star Rd, West Kensington | Cross St, Cromer |
| | | 1900 | | May Read | 157 | | | Church St, Cromer |
| | | 1901 | | John Richard Edwards | 158 | | | |
| | | 1901 | | William Charles Mayes | 159 | | 1909 address Sittingbourne, 1916 School House, South Weald, Nr Brentford | |
| | | 1901 | | Alice Maud Mayes | 160 | | 1913 address Colne Ford House, White Colne, Essex 1916 c/o Mrs Etheridge, Queens Rd, Earls Colne | Cromer |
| | | 1901 | | Wilfred William Randall | 161 | | 1906 address 21 Moncrieff St, Rye Lane, Peckham, 1909 43 Oglander Rd, E Dulwich, SE, 1913 Cromere, Brockley Grove, SE | Mount St, Cromer |
| | | 1901 | | Mabel Theodosia Randall | 162 | | 1906 address 150 Venner Rd, Sydenham, SE, 1908 62 LaurelGrove, Penge, SE, 1910 26 Stodart Rd, Penge, SE, 1910 118 Oakfield Rd, Penge, 1915 21 Padua Rd, Anerley, SE | Mount St, Cromer |
| | | 1901 | | William John Cheverton | 163 | | 1907 address Clare House, Clare Rd, Suffield Park, 1913 St Marys Road, 1915 Suffield Park, 1916 Bond St Wife Elizabeth aged 26 in 1901 | Mill Lane, Cromer |
| | | 1901 | | Muriel Ethel Durrant | 164 | | | 14 North Row, Cromer |
| | | 1901 | | Robert Whitehead | 165 | | 1902 address c/o Mr H Amis, West St, Cromer | c/o Mr J A Clarke, Church St, Cromer |
| | | 1902 | | Alfred Ernest Walker | 166 | | | M & GN Railway Cottages, Cromer |
| | | 1903 | | Harry S B Cotton | 167 | | | Colne Lodge, Cromer |
| | | 1902 | | Anna Curtis (nee Golding) | 168 | | 1906 name changed to Curtis | 14 Connaught Rd, Cromer |
| | | 1902 | | Charles Thomas Allen | 169 | | | 10 North Row, Cromer |
| | | 1902 | | Robert John Keeley | 170 | | 1906 address Mount St, 1908 Chesterfield Villas, 1910 33 Cliff Rd, Cromer | Church Street, Cromer |
| | | 1903 | | Ethel Rose M Grimble | 171 | | | 6 Hans Place, Cromer |
| | | 1904 | | Gordon Samuel Groom | 172 | | 1912 address 16 Sangley Rd, South Norwood, SE, 1912 15 Sangey Rd, South Norwiid, 1916 2 Hawthorn Ave, Shirley Rd, Croydon, 1916 20 Constitution Hill, Norwich, 1916 9 Aylsham Rd, Norwich | School House, Aylmerton |
| | | 1905 | | Edith Elizabeth Golding (nee Baker) | 173 | | 1907 address Heathersett House, 1908 17 Cross St, 1912 9 High St, 1915 Canada Road Name changed to Golding June 1907 | Kimberley House, Garden St, Cromer |
| | | 1905 | | Walter William Withers | 174 | | 1912 address Heath Farm, Roughton, 1913 c/o Miss Death, 57 Leicester St, Norwich, 1916 617 Bethune St, Peterboro, Ontario, Canada | 62 Church St, Cromer |
| | | 1906 | | Ellen Lydia Blythe | 175 | | | 2 The Bungalow, Cromer |
| | | 1906 | | Walter Owen Durrant | 176 | | 1913 address 54 Cenral Rd, Cromer | 14 Chesterfield Cottages, Cromer |
| | | 1906 | | Ida Read | 177 | | | 63 Church St, Cromer |
| | | 1906 | | Margaret Richardson Tennant (nee Payne) | 178 | | 1911 address 12 Mount St, Cromer 1911 name changed to Tennant | Cross St, Cromer |
| | | 1906 | | Maud Eugenia Land (nee Kirby) | 179 | | 1908 address Bond St, 1911 17 The Meadow, 1915 The Chestnauts, Waddesden, Nr Aylesbury 1915 Named changed to Land | Louden Rd, Cromer |
| | | 1907 | | Alice Selina Wodehouse (nee Bumphrey) | 180 | | 1912 address Metton Rd, Felbrigg 1913 address West St, Cromer 1909 name changed to Woodhouse | 6 York Terrace, Suffield Park |
| | | 1907 | | Nellie Louisa Bumphrey | 181 | | | 6 York Terrace, Suffield Park |
| | | 1908 | | William Wodehouse | 182 | | 1913 address West St, Cromer | Felbrigg |
| | | 1908 | | Reginald George Randall | 183 | | 1909 address 21 Moncrieff St, Peckham, Se, 1912 24 Denman R, Peckham, 1914 YMCA, Cairo | 21 Mount St, Cromer |
| | | 1908 | | Olive Agnes Walker | 184 | | | M & GN Railway Cottages, Cromer |
| | | 1908 | | Charles George Hudson | 185 | | | 4 St Marys Rd, Cromer |
| | | 1908 | | Dudley Montague Kettle | 186 | | 1914 address The Groves, Malpas, Cheshire, 1916 5 Cross St, Cromer | Suffield Park |
| | | 1908 | | James Brian Smith | 187 | | Later address 38 Plumstead Common Road, SE | 16 Thomas St, Kings Lynn |
| | | 1908 | | Charles Anson Parker | 188 | | 1909 address 38 Plumstead Common Rd, SE, 1910 Bond St, Cromer | 6 Bond St, Cromer |
| | | 1909 | | Una Read | 189 | | | Church Street, Cromer |
| | | 1909 | | Beatrice Florence Algar | 190 | | | 51 Station Rd, Cromer |
| | | 1909 | | Mildred Chant | 191 | | | 1 Cambridge St, Cromer |
| | | 1909 | | Stanley Robert Love | 192 | | | Cliff House Gardens, Cromer |
| | | 1910 | | Alfred George Daniels | 193 | | 1910 address Clacton on Sea, 91 Ponders End, 1916 Leigh House, 118 High St, Poole, Dorset | Colne House Stables, Cromer |
| | | 1910 | | Ernest Victor Kettle | 194 | | 1914 address South America | Suffield Park Lodge |
| | | 1912 | | Josephus Leake | 195 | | | Warlies, Waltham Abey, Essex |
| | | 1910 | | Lillie Elizabeth Woodhouse | 196 | | 1912 address Hanover House, High St, Cromer 1913 Oakleigh, Norwich Rd, Cromer, 1914 East Ella, Felbrigg | 1 Grove Cottages, Felbrigg |
| | | 1910 | | William Death | 197 | | | 62 Church St, Cromer |
| | | 1911 | | Ambrose Golding | 198 | | | New St, Cromer |
| | | 1911 | | Jonathan Henry Bumfrey | 199 | | | 6 York Terrace, Suffield Park |
| | | 1911 | | Annie Warner | 200 | | | 31 Mill Lane, Cromer |
| | | 1911 | | Alice R Fulcher (later Landsborough) | 201 | | 1913 address Trimingham 1916 name changed to Landsborough | 3 M&GN Cottages |
| | | 1911 | | Frank Thomas Allen | 202 | | 1912 address 9 Meadow Cottages | 9 The Meadow, Cromer |
| | | 1912 | | Maud Marion Allen | 203 | | | 6 New St, Cromer |
| | | 1912 | | Raymond Edward Ralph Randall | 204 | | | 21 Mount St, Cromer |
| | | 1912 | | Louisa Rounce | 205 | | | Prior Bank, Cliff Ave, Cromer |
| | | 1912 | | Francis Lewis Castle | 206 | | | 74 Central Rd, Cromer |
| | | 1912 | | Minnie Ellen Pike | 207 | | | Rose Cottage, Aylmerton |
| | | 1912 | | Raymond Bailey Darby | 208 | | 1916 address 131 Lower Addiscomeb Rd, Croydon, 1916 Kenilworth, 51 Chisholm Rd, East Croydon, 1916 Park Side, Colman Rd, Norwich | 11 Cadogan Rd, Cromer |
| | | 1912 | | Sidney Walter Allen | 209 | | 1916 address 10 West Cottages, Cromer | 6 South Cottages, Cromer |
| | | 1912 | | Fanny Lilian Smith | 210 | | | 14 Cabbell Road, Cromer |
| | | 1912 | | Arnold Vincent | 211 | | | Suffield Opark, Cromer |
| | | 1912 | | Annie Ebbage | 212 | | | Minces Farm, Blofield |
| | | 1912 | | Hilda Beatrice Booth | 213 | | 1912 address The Briary, Crondall, Herts | Cromer |
| | | 1912 | | Alice Margery Cooper | 214 | | | 6 Victoria Terrace, East Runton |
| | | 1912 | | Gordon Love Porritt | 215 | | | East Runton |
| | | 1912 | | Rose Charlotte Matthews | 216 | | Later address Pond St, Northrepps | Cromer |
| | | 1912 | | Henry Edwin Smith | 217 | | 1915 address 27 Cross St, 1915 74 Central Rd | 11 Alfred Rd, Cromer |
| | | 1812 | | Lucy Walwyn | 218 | | | School House, Northrepps |
| | | 1912 | | Isabel Durrant | 219 | | 1912 address Central Road | 14 North Row. Cromer |
| | | 1912 | | Eliza Cawston | 220 | | | Felbrigg Green |
| | | 1912 | | Lily Beatrice Sergent | 221 | | | West St, Cromer |
| | | 1912 | | Charles Anson Parker | 222 | | | Bond St, Cromer |
| | | 1912 | | May Beatrice Golding | 223 | | 1916 address 11 The Meadow, Cromer | West St, Cromer |
| | | 1912 | | Henrietta Sarah Hedges | 224 | | | Cromer |
| | | 1912 | | Lilian James | 225 | | | Cromer |
| | | 1912 | | Ralph Theodore Stearne | 226 | | 1916 address 4 York Terrace, Suffield Park | Suffield Park |
| | | 1912 | | Herbert Hudson | 227 | | | 4 St Marys Rd, Cromer |
| | | 1912 | | Annie Warner Everitt (nee Ling) | 228 | | 1916 name changed to Everitt | 3 Ivy Cottages, Cromer |
| | | 1912 | | Priscilla Augusta Lydia De'Ath | 229 | | | 62 Church St, Cromer |
| | | 1912 | | Gladys Margery Payne | 230 | | | 60 Church St, Cromer |
| | | 1912 | | Nora Blogg | 231 | | | Chapel St, Cromer |
| | | 1912 | | Margaret Annie Woods | 232 | | Later address 10 St Margarets Road, Hanwell | Overstrand |
| | | 1912 | | Alice Maud Redman | 233 | | Later address Little Waltham, nr Chelmsford | Overstrand |
| | | 1912 | | Emmeline Honor Garrod (nee Balls) | 234 | | 1913 address 3 Brickfield Cottages, Cromer 1916 The Common, Tuhstall, Suffolk 1916 name changed to Garrod | 3 Ivy Cottages, Roughton Rd, Cromer |
| | | 1912 | | Edith Mary Kerr (nee Allen) | 235 | | | 15 North Row, Cromer |
| | | 1912 | | Agnes Alice Jane Miller | 236 | | | 2 Ivy Terrace, Brickfields |
| | | 1912 | | Sarah Jane Baker | 237 | | | Cromer |
| | | 1913 | | James Robert Bumfrey | 238 | | | 6 York Terrace, Suffield Park |
| | | 1913 | | Mabel Ethel Field | 239 | | | Cromer |
| | | 1913 | | Alfred Spalding | 240 | | | Cromer |
| | | 1913 | | Amelia Jane Wavenham | 241 | | | Cromer |
| | | 1913 | | Sayer Archer | 242 | | | 5 Gangway, Cromer |
| | | 1913 | | Ernest Geoffrey Smith | 243 | | 1916 address 7 Cross St, Cromer 1916 14 Morton Road, 1916 5 Clifton Avenue, Midland Rd, Peterboro ? Canada | Cross St, Cromer |
| | | 1913 | | Edith Sarah Frances Brown | 244 | | | Cromer |
| | | 1913 | | Elizabeth Tubby | 245 | | "Insurance Act only" | Upton House, Cromer |
| | | 1913 | | Rose May Vincent | 247 | | | 7 Bond St, Cromer |
| | | 1913 | | Ernest James Golding | 248 | | | Prince of wales Rd, Cromer |
| | | 1913 | | Robert John Balls | 249 | | | Church St, Northrepps |
| | | 1913 | | Sarah Elizabeth Battrick Howland | 250 | | | Cromer |
| | | 1913 | | Arthur Lumsden Bishop | 251 | | | Cromer |
| | | 1913 | | Edith Maria Blyth | 252 | | | Cromer |
| | | 1913 | | Hilda Mary Harrison | 253 | | | Cromer |
| | | 1914 | | Alice Rhoda Sayer | 254 | | | 5 The Gangway, Cromer |
| | | 1914 | | Harry Cawston | 255 | | | Felbrigg Green |
| | | 1914 | | Emily May Spinks | 256 | | | Cromer |
| | | 1914 | | Florence May Allen | 257 | | | Cromer |
| | | 1915 | | Enid Honor Norman (nee Randall) | 258 | | 1916 name changed to Norman | 21 Mount St, Cromer |
| | | 1915 | | Carrie Mary Balls | 259 | | 1916 address 4 Connaught Rd, Cromer | Church St, Northrepps |
| | | 1915 | | Arthur Brand | 260 | | | 26 Central Rd, Cromer |
| | | 1915 | | James Percy Allen | 261 | | | Cromer |
| | | 1915 | | Edith Jane Brand | 262 | | | 26 Central Rd, Cromer |
| | | 1915 | | Margaret Elizabeth Cooper (nee Bumphrey) | 263 | | 1916 name changed to Cooper | 6 York Terrace, Suffield Park |
| | | 1915 | | Renee Violet Scott (nee Slapp) | 264 | | 1916 name changed to Scott | 9 West St, Cromer |
| | | 1915 | | Frederick Nowell Smith | 265 | | Dicharged 19 April 1919 | Cross St, Cromer |
| | | 1915 | | Olga Laura Stearne | 266 | | 1915 address 4 York Terrace, Suffield Park | 1 Tilney St, Park Lan,e London |
| | | 1915 | | Elizabeth Owen Roberts | 267 | | | Red House, Cromer |
| | | 1916 | | Georgina May Facey (nee Wells) | 268 | | 1916 name changed to Facey | New Cemetery, Felbrigg |
| | | 1916 | | John Herbert Hewitt | 269 | | | Louden Rd, Cromer |
| | | 1916 | | Edith Martha Brand | 270 | | | 26 Central Rd, Cromer |
| | | 1916 | | Arthur Sayer | 271 | | | 5 Gangway, Cromer |
| | | 1916 | | Ernest George Frederick Nockels | 272 | | | Cromer |
| | | 1916 | | Agnes Annie Wanstall | 273 | | | Norwich |
| | | 1916 | | William Albert Warner | 274 | | | 31 Mill Road, Cromer |
| | | 1916 | | Emily Olive Leake | 275 | | | East Runton |
| | | 1916 | | Alfred Herbert Leake | 276 | | | East Runton |
| | | 1916 | | Mary Elizabeth May Leake | 277 | | | London |
| | | 1916 | | Felix Marmaduke Kettle | 278 | | | Wroxham |
| | | 1917 | | Frederick William Juby | 279 | | | Cromer |
| | | 1917 | | Harriet Martha Clark (nee Leake) | 280 | | Horncastle, Lincs 1916 name changed to Clark | New St, Cromer |
| | | 1917 | | Hector George Church | 281 | | | 3 The Gangway, Cromer |
| | | 1917 | | Maggie Victoria Balls | 282 | | | 3 Brickfields, Cromer |
| | | 1917 | | Edward Girling Smith | 283 | | 1916 address 168 London Rd North, Lowestoft | 7 Cross St, Cromer |
| | | 1917 | | Albert Edward Seago | 284 | | | 5 York Terrace, Suffield Park |
| | | 1917 | | Arthur Robert Brand | 285 | | 1916 address 8 East Cottages, Tucker St, Cromer later 48 Central Road, Cromer | 26 Central Rd, Cromer |
| | | 1917 | | Beatrice Annie Clarke (nee Warner) | 286 | | 1916 name changed to Clarkes | Connaught Rd, Cromer |
| | | 1917 | | Valerie Edna Durrant | 287 | | | 29 Bernard Rd, Cromer |
| | | 1917 | | Ella Muriel Comber | 288 | | | Meadow Villas, Cromer |
| | | 1918 | | Christopher John Balls | 289 | | | 2 Louden Road, Cromer |
| | | 1918 | | Ethel Martha Atkins (nee Mindham) | 290 | | 1916 addres Ling Hall Road, Wood Norton, E Dereham 1916 name changed to Atkins | Shrublands, Norwich Rd, Cromer |
| | | 1918 | | Ethel Flora May Wanstall | 291 | | | South View, St Marys Rd, Cromer |
| | | 1918 | | Ivy Thirza Leake | 292 | | | New Street, Cromer |
| | | 1918 | | Louisa Chamberlin | 293 | | | West Runton |
| | | 1918 | | Ethel May Gibbons | 294 | | | 7 West St, Cromer |
| | | | | See No 246 | 295 | | | |
| | | 1919 | | Ethel Eliza Barker (nee Lee) | 296 | | 1916 name changed to Barker | Beaconsfield, East Runton |
| | | 1919 | | Elsie Middleton | 297 | | | Cromer |
| | | 1919 | | Henry Foulger Balls | 298 | | | 4 Connaught Rd, Cromer |
| | | 1919 | | Arthur Wilfred Bishop | 299 | | | Cromer |
| | | 1920 | | Gladys Annie Seago | 300 | | | 5 York Terrace, Suffield Park |
| | | 1920 | | William Alfred Leake | 301 | | | East Runton |
| | | 1920 | | Arthur William Nockels | 302 | | | 8 Jetty St, Cromer |
| | | 1920 | | Eva Sophia Smith (nee Fulcher) | 303 | | 1916 address 113 Mill Rd, Cromer 1916 name changed to Smith | 64 Central Rd, Cromer |
| | | 1920 | | Cyril Mills | 304 | | | Cromer |
| | | 1921 | | Jessie Muir Randall | 305 | | | 21 Mount St, Cromer |
| | | 1921 | | Frank Anderson Smith | 306 | | | 7 Cross St, Cromer |
| | | 1921 | | William Allen | 307 | | | Tucker St, Cromer |
| | | 1921 | | Herbert Albert Muirhead | 308 | | | 9 Roseberry Rd, Cromer |
| | | 1922 | | Arthur Edward White | 309 | | | 13 Carlton Terrace, Cromer |
| | | 1922 | | May Elvina Randall | 310 | | | 68 Central Rd, Cromer |
| | | 1921 | | Reginald Robert Nockels | 311 | | | 8 Jetty St, Cromer |
| | | 1922 | | Ernest Herbert Carter | 312 | | | 13 Roseberry Rd, Cromer |
| | | 1922 | | Vera Joan Hubbard (nee Durrant) | 313 | | 1916 name changed to Hubbard | 29 Bernard Rd, Cromer |
| | | 1923 | | Nora Horne (nee Woodhouse) | 314 | | 1916 address Greenfields, West Runton 1916 name changed to Horne | 12 Cenral Rd, Cromer |
| | | 1923 | | Wllis May Brand | 315 | | 1916 address 8 East Cottages, Tucker St and later 48 Central Rd, Cromer | 2 Garden St, Cromer |
| | | 1924 | | William George Bumphrey | 316 | | | 6 York Terrace, Suffield Park |
| | | 1924 | | Clemence Martins Leake | 317 | | | Pond Cottage, East Runton |
| | | 1924 | | Alfred Benjamin Slapp | 318 | | | 39 Belgravia Square, Westminster |
| | | 1924 | | Edward William Cheverton | 319 | | | Bond St, Cromer |
| | | 1925 | | May Marsh | 320 | | | 2 York Villas, Cromer |
| | | 1925 | | Clara Constable | 321 | | 1916 address Surrey House, Cromer | Canada Rd, Cromer |
| | | 1926 | | Sidney Charles William Comer | 322 | | | 95 Mill Rd, Cromer |
| | | 1926 | | Gladys Violet Kettle | 323 | | | 5 Brickfields, Cromer |
| | | 1926 | | Rosemary Slapp | 324 | | 1916 address 5 Brickfields, Cromer | 11 Copse Hill, Wimbledn, SW20 |
| | | 1926 | | Albert Edward Seago | 325 | | | 5 York Terrace, Suffield Park |
| | | 1927 | | Alexander Massingham Bower Cole | 326 | | | 4 Mount St, Cromer |
| | | 1927 | | Kathleen Lilian Emery | 327 | | | 8 Chesterfield Cottages, Cromer |
| | | 1927 | | Blanche Elizabeth White | 328 | | | Hagley House, Bond St, Cromer |
| | | 1927 | | Leslie William Woodhouse | 329 | | | Bernard Rd, Cromer |
| | | 1928 | | David Pike | 330 | | 1916 address Hill Farm, Roughton | Cromer Rd, Roughton |
| | | 1928 | | Alice Maude Redman | 331 | | | White House, Lillte Hautbois |
| | | 1928 | | Francis Irwin Childs | 332 | | 1916 address "Home", The Croft, Cromer | Croft Estate, Cromer |
| | | 1929 | | Maurice William Leake | 333 | | | Crofton House, East Runton |
| | | 1929 | | George Slapp | 334 | | | 5 Brickfields, Cromer |
| | | 1929 | | Joyce Mary Golding | 335 | | | 11 Meadow, West St, Cromer |
| | | 1930 | | William John Mace Symonds | 336 | | | 7 Corner St, Cromer |
| | | 1930 | | Henry William Lloyd | 337 | | | 45 Mill Rd, Cromer |
| | | 1930 | | David John Leake | 338 | | | Pond Cottage, east Runton |
| | | 1930 | | Violet Ethel Grimble | 339 | | | 27 Connaught Rd, Cromer |
| | | 1930 | | Eric Henry Hewitt | 341 | | | Elm View, Louden Rd, Cromer |
| | | 1930 | | Marjorie Maude Buck then later Draper (nee Kettle) | 341 | | 1916 name changed to Buck then later to Draper | 5 Brickfields, Cromer |