John Taylor, the Water Poet, visits Cromer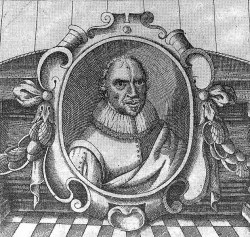 John Taylor spent much of his life working as a Thames waterman, rowing passengers around on the river. He also made some eccentric journeys around the British Isles, often recording them in somewhat heavy verse. He has a humorous style of writing, often regarded as giving a social insight into his times rather than exhibiting a quality of verse. A line of his verse was used for one of the quotations on the promenade.
In a time of pirates along the coast of Norfolk, his visit was not straightforward. Bad weather drove him ashore at Cromer and his reception was not friendly! The latter part of the poem does illustrate the on-going battle that the inhabitants had with the sea. Below is the extract from A Very Merry - Wherry - Ferry Voyage. The poem was published in 1623, so we can imagine that the voyage was made a year or two before that. The picture of John Taylor is from his 1630 poetry anthology.


And thus half soused, half stewed, with sea and sweat,

We land at Cromer Town half dry, half wet;

But we supposing all was safe and well,

In shunning Scylla on Charybdis fell;

For why, some women and some children there

That saw us land, were all possessed with fear;

And much amaz'd ran crying up and down,

That enemies were come to take the town.

Some said that we were pirates, some said thieves,

And what the women says, the men believes.

With that four constables did quickly call,

Your aid! to arms your men of Cromer all.

Then straightway forty men with rusty bills,

Some arm'd in ale, all of approved skills,

Divided into four stout regiments,

To guard the town from dangerous events.

Brave Captain Pescod did the vanguard lead,

And Captain Clarke the rearward governed,

Whilst Captain Wiseman and hot Captain Kimble,

Were in main battalia fierce and nimble.

One with his squadron watch'd me all the night,

Lest from my lodging I should take my flight

A second (like a man of simple note),

Did by the seaside all night watch my boat;

The other two, to make their names renowned,

Did guard the town, and bravely walk the round.

And thus my boat, myself, and all my men,

Were stoutly guarded, and regarded then;

For they were all so full with fear possessed,

That without mirth it cannot be expressed.

My invention doth curvet, my muse doth caper,

My pen doth dance out lines upon the paper;

And in a word I am as full of mirth,

As mighty are at their first son's birth.

Methinks Moriscoes are within my brains,

And Heys and antics run through all my veins;

Heigh, to the tune of Trenchmore I could write

The valiant men of Cromer's sad affright;

As sheep do fear the wolf or geese the fox,

So all amazed were these senseless blocks;

That had the town been fir'd, it is a doubt,

But that the women there had pissed it out,

And from the men reeked such a fearful scent,

That people three miles thence mused what it meant,

And he the truth that narrowly had sifted,

Had found the constables, had needed t'have shifted.

They did examine me, I answer'd then

I was John Taylor and a waterman,

And that my honest fellow Job and I,

Were servants to King James his majesty;

How we to York, upon a mart were bound,

And that we landed fearing to be drown'd.

When all this would not satisfy the crew,

I freely ope'd my trunk, and bade them view;

I shew'd them books of Chronicles and Kings,

Some prose, some verse, some idle sonnetings.

I shew'd them all my letters to the full,

Some to York's Archbishop and some to Hull;

But had the twelve apostles sure been there

My witnesses, I had been ne'er the near.

And let me use all oaths that I could use,

They still were harder of belief than Jews.

They wanted faith, and had resolv'd before,

Not to believe what e'er we said or swore.

They said the world was full of much deceit,

And that my letters might be counterfeit;

Besides, there's one thing bred the more dislike,

Because mine host was known a Catholic.

These things concurring, people came in clusters,

And multitudes within my lodging musters,

That I was almost worried unto death,

In danger to be stifled with their breath.

And had mine host took pence apiece of those

Who came to gaze on me, I do suppose,

No jack an apes, baboon, or crocodile,

E'er got more money in so small a while.

Besides, the peasants did this one thing more,

They call'd and drank four shillings on my score;

And like unmanner'd mongrels went their way,

Not spending ought, but leaving me to pay.

This was the household business: in mean space,

Some rascals ran unto my boat apace,

And turn'd and tumbled her, like men of Gotham,

Quite topsy-turvy upward with her bottom,

Vowing they would in tatters piece-meal tear

The cursed pirate's boat, that bred their fear;

And I am sure, their madness (to my harm)

Tore a board out much longer than mine arm.

And they so bruis'd and split our wherry, that

She leaked, we cast out water with a hat.

Now let men judge, upon this truth's revealing,

If Turks or Moors could use more barb'rous dealing;

Or whether it be fit I should not write,

Their envy, foolish fear, and mad despite.

What may wise men conceive, when they shall note,

That five unarmed men in a wherry boat,

Naught to defend, or to offend with stripes,

But one old sword and two tobacco pipes;

And that of constables a murnivall,

Men, women, children, all in general,

And that they all should be so valiant wise,

To fear we would a market town surprise.

In all that's writ, I vow I am no liar,

I muse the beacons were not set on fire.

The dreadful names of Talbot, or of Drake,

Ne'er made the foes of England more to quake

Than I made Cromer ; for their fear and dolour,

Each man might smell out by his neighbour's choler.

At last the joyful morning did approach,

And Sol began to mount his flaming coach;

Then did I think my purgatory done,

And 'rose betimes intending to be gone.

But holla! stay, 'twas other ways with me,

The mess of constables were shrunk to three!

Sweet Mr. Pescod's double diligence,

Had horsed himself to bear intelligence

To Justices of Peace within the land,

What dangerous business there was now in hand.

There was I forced to tarry all the while,

Till some said he rode four-and-twenty mile,

In seeking men of worship, peace, and quorum,

Most wisely to declare strange news before 'em.

And whatsoever tales he did recite,

I'm sure he caused Sir Austin Palgrave, knight,

And Mr. Robert Kemp, a Justice there,

Came before me to know how matters were.

As conference 'twixt them and I did pass,

They quickly understood me what I was;

And though they knew me not in prose and looks,

They had read of one in my verse and books.

My businesses account I there did make,

And I and all my company did take

The lawful oath of our allegiance then,

By which we were believed for honest men.

In duty and in all humility,

I do acknowledge the kind courtesy

Of those two gentlemen ; for they did see

How much the people were deceived in me.

They gave me coin, and wine, and sugar too,

And did as much as lay in them to do,

To find them that my boat had torn and rent,

And so to give them worthy punishment.

Besides, Sir Austin Palgrave bade me this,

To go but four miles, where his dwelling is,

And I and all my company should there

Find friendly welcome, mixed with other cheer.

I gave them thanks, and so I'll give them still,

And did accept their cheer in their good will.

Then 3 o'clock at afternoon and past,

I was discharged from Cromer at the last.

But for men should not think that enviously

Against this town I let my lines to fly;

And that I do not lie, or scoff, or fable,

For then I will write something charitable.

It is an ancient market town that stands

Upon a lofty cliff of mouldring sands;

The sea against the cliffs doth daily beat,

And every tide into the land doth eat.

The town is poor, unable by expense,

Against the raging sea to make defence;

And every day it eateth further in,

Still waiting, washing down the sand doth win,

That if some course be not ta'en speedily,

The town's in danger in the sea to lie.

A goodly church stands on these brittle grounds,

Not many fairer in Great Britain's bounds;

And if the sea shall swallow it as some fear,

'Tis not ten thousand pounds the like could rear.

No Christian can behold it but with grief,

And with my heart I wish them quick relief.

So farewell, Cromer, I have spoke for thee,

Though you didst much unkindly deal with me.

And honest mariners, I thank you there,

Laboriously you in your arms did bear

My boat for me three furlongs at the least,

When, as the tide of ebb was so decreased,

You waded, and you launched her quite afloat,

And on your backs you bore us to our boat.

The unkindness that I had before, it come

Because the constables were troublesome;

Longed to be busy, would be men of action,

Whose labours was their travels satisfaction;

Who all were born when wit was out of town,

And therefore got but little of their own.

So farewell Pescod, Wiseman, Kimble, Clarke,

Four sons of ignorance (or much more dark),

You make me lose a day of brave calm weather,

So once again farewell, fare ill together.